Violet Churcu
Iochroma cyaneum
An stunning plant, instantly recognizable for its deep violet, trumpet shaped blooms which come in huge clusters. It is a much sought after and uncommon garden ornamental, related to the beautiful Brugmansia's.
Seed Availability
Seeds are not available for the Violet Churcu. Please visit our seed store to view current selections.
Description
Bushy growing habit to 8-12ft. Foliage has a "tropical" look and the plant is evergreen is suitable climates. Flowering occurs year-round, with more intense blooms produced during spring and fall. There are a few known varieties, of which the most common is the 'Wine' Iochroma, which has flowered colored the same as red wine.
Hardiness
Hardy to the mid 20's. May defoliate somewhat in frost or light freezing temperatures. Should be protected from hard or prolonged freezes.
Growing Environment
Flourishes in subtropical and mild-temperate climates with minimal frost. In milder climates it does nicely in full sun, but in warmer or heat-prone climates (where the temperature regularly tops 85-90F) it should be grown in shade. In warmer climates it tends to flower more during colder months. Provide consistent water throughout the year, though it does not tolerate flooding. Easy for container culture and can be brought indoors for winter.
Propagation
Usually by seeds. Germination often occurs quickly but seeds can go dormant and occasionally need several weeks to a couple of months to overcome dormancy.
Uses
Almost exclusively grown as an ornamental. The plant has some historical uses by local medicine men in its native range as the plant contains a number of alkaloids and hallucinogens much like its relatives the Brugmansia's and the Datura's. It should also be noted that the all parts of the plant are likely toxic if ingested in any way.
Native Range
The mountains of Ecuador.
Additional Pictures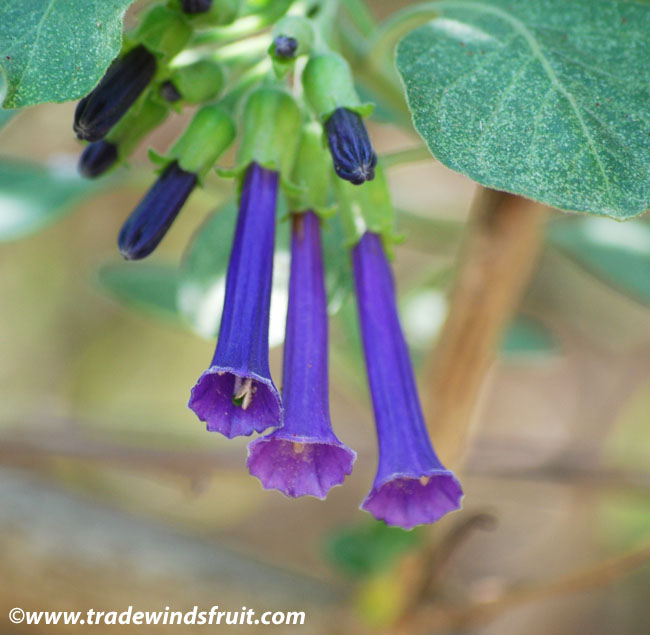 Related Species