Home »

Double Purple Datura
Double Purple Datura
Datura metel
A stunningly beautiful garden Datura, having huge double blossoms of an elegant lavender purple color.

Seed Availability
Seeds are now available at our seed store.
Description
A short perennial to about 4-6ft. Branches, leaves and stems are tinted purple. The huge flowers can grow to 12". The plant flowers quickly from seed and can bloom in just a few months from planting. The large flowers are followed by circular, warty fruits that dry and pop open to expel seeds. All parts of this plant are extremely toxic and should not be ingested in any form. Ingestion of a single leaf can have severe side effects.
Hardiness
Hardy to 20F. Easy to grow as an annual in cold climates, just start seeds early and plant out when temperature warms. Seeds can be saved for the following season.
Growing Environment
Grows best in filtered sun, but will also grow in full sun. Water fairly regularly. Grow in well-drained soil. Plants are very suitable to container culture.
Propagation
By seeds. Seeds usually take several weeks to germinate.
Uses
Grown as an ornamental for its amazing flowers.
Native Range
The Double Purple is a horticultural variety. Wild Datura metel is native to India and southeast Asia.
Additional Pictures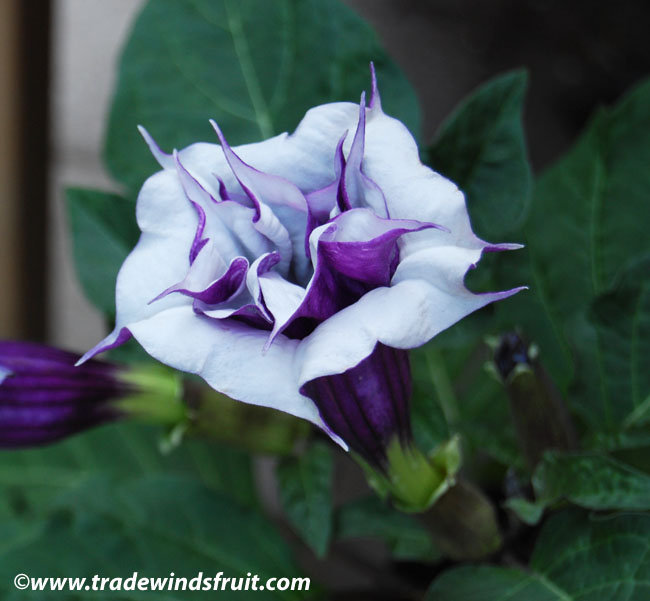 Related Species