Home »

Passiflora actinia
Passiflora actinia
Passiflora actinia
A delicate Passiflora beauty with flowers that have beautitul purple and white striped corona filaments, bearing a rounded yellow edible fruits with tasty pulp.
Seed Availability
Seeds are not available for the Passiflora actinia. Please visit our seed store to view current selections.
Description
A fairly fast-growing, evergreen perennial vine with heart-shaped leaves. Vines may grow a dozen or more feet in a season and are multi-branching climbers. Flowers are numerous during warmer months and bloom for a day or two. Rounded, orange-yellow ripening fruits follow and grow to a inch or more.
Hardiness
Reportedly hardy to 24-25F.
Growing Environment
The vine grows well in part-shade and possibly full-sun. In our experience it thrive in moist, environments with bright, but indirect sunlight. It readily climbs trellises, fences and other plants. Grow in well-drained soil, Water regularly.
Propagation
By seeds, which show erratic germination times. Soak seeds for 24hrs prior to planting in warm water. It is also helpful to treat seeds with Giberellic Acid to break dormancy. Seeds may germinate anywhere from 2 weeks to 6 months and occasionally even longer. Soil temperatures should be kept at 75-85F. Also propagated by cuttings, which can be tricky to root. Rooting hormone is generally used to encourage cuttings taking hold.
Uses
The vine is grown as a beautiful ornamental for its flowers, and also as a food-crop for its edible fruits.
Native Range
Native to Brazil.
Additional Pictures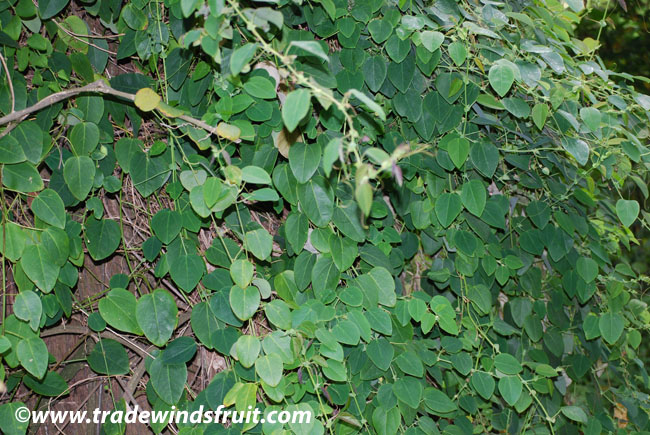 Related Species