Home »

Desert Bird of Paradise
Desert Bird of Paradise
Caesalpinia gilliesii
a.k.a. Yellow Bird of Paradise, Poinciana gilliesii
A short, arid-climate shrub with amazing flowers! Akin to some of its paradise flower relatives, this tough plant is a profuse bloomer and something to behold as a landscape plant.

Seed Availability
Seeds are now available at our seed store.
Description
Shrubby growth habit to 6-12ft by 6-8ft. Deciduous. The ornate flowers bloom through most of the warmer months and are followed by woody, podded fruits.
Hardiness
Hardy to 10-15F.
Growing Environment
Grows very well in dry regions. Has a deep root system and needs little water when established, though more regular watering will promote blooming. Weathers hot and dry conditions with ease. Grow in full sun. Will grow in pretty much any soil type.
Propagation
By seeds.
Uses
Mainly used as an ornamental, particularly in dry regions. The plant was once used medicinally in parts of South America. The seeds and seed pods are toxic.
Native Range
Native to South America, in particular Uruguay and Argentina. Has naturalized through much of the America's north to the Southwestern United States.
Additional Pictures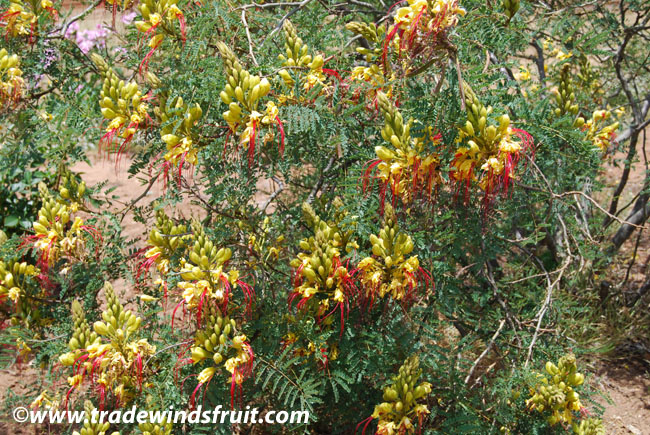 Related Species