Florist Pod Poppy
Papaver sp.
A large, attractive, white petaled poppy selected as a florist strain. Blooms are several inches across making this one of the largest blooming garden poppies.
Seed Availability
Seeds are not available for the Florist Pod Poppy. Please visit our seed store to view current selections. Seeds were last available in October 2012.
Description
A slender perennial, growing to 3-5 feet. Large white petaled bloom are accented with purple spots. Blooms last for several days and can be picked for dried arrangements. Large pods follow blooms and ripen several weeks later.
Hardiness
Not frost hardy. Grow as an annual.
Growing Environment
Grows well in slightly cooler conditions, with temperatures from 45-80F. Grow in full sun. Plants need consistent watering through their blooming cycle. Blooms generally appear in 2-3 months from seed.
Propagation
By seeds. Sow directly in warm soil or start indoors. Seeds germinate within a few weeks in soil temperatures above 65F.
Uses
Grown as a garden ornamental for its beautiful, large blooms. This variety is also said to have flowers that dry well, making it useful as a cut flower.
Native Range
Horticultural strain of unknown origin.
Additional Pictures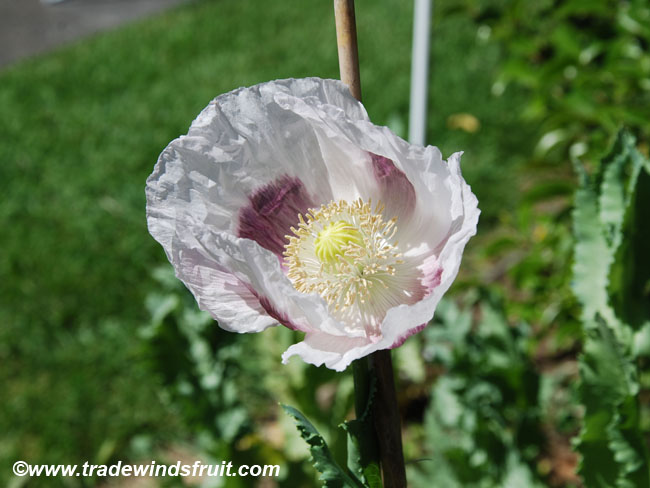 Related Species