Ixora
Ixora coccinea
a.k.a. Flame of the Woods, Jungle Flame, Jungle Geranium
A common ornamental throughout tropical areas, ixora's come in a variety of colors and species.
Seed Availability
Seeds are not available for the Ixora. Please visit our seed store to view current selections.
Description
A fairly small, bushy shrub, usually only 5-10ft tall. There are dwarf varieties that are much smaller. Ixora will flower when only a few inches high. It is commonly used a hedge or small garden plant.
Hardiness
Ixora is too tender to grow outside of the tropics and subtropics. It prefers a warm, humid climate with temperatures rarely dipping below 50F.
Growing Environment
Grow in full sun. Plants have only moderate drought tolerance.
Propagation
By seed, but superior varieties can be propagated by cuttings.
Uses
The plant is mainly grown as an ornamental, but its flowers also have some medicinal uses.
Native Range
Native to India and Sri Lanka.
Additional Pictures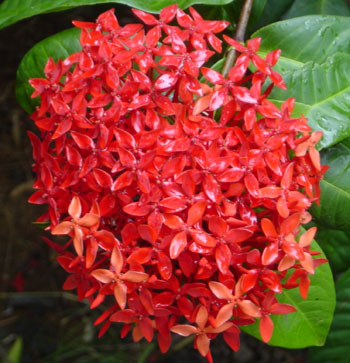 Related Species